PAX Aus 2017: Stemgames
Posted on November 13, 2017
Here is my absolute favourite thing about PAX: my involvement in the Australian STEM Video Game Challenge. I've posted previously about this, but since I missed PAX last year it's about time for another recap. (For more summaries, click here and here and here; for my more detailed thoughts on the research about learning through game development, click here).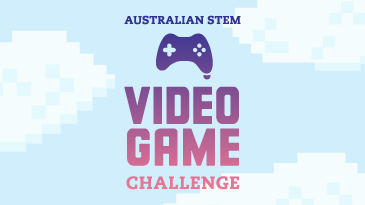 The Challenge is organised by the Australian Council for Educational Research (specifically ACER Foundation), and has run every year since 2014. It's essentially an extracurricular competition for kids in school years 5-12: they form teams (or go it alone) and develop a video game, usually under the guidance of a teacher or mentor, and sometimes in collaboration with an organisation like Code Club. The idea is to enhance student's interest in STEM (Science, Technology, Engineering, and Mathematics) by leveraging their passion for video games. There are prizes in an awards ceremony and a panel at Penny Arcade Expo Australia, and this is where my involvement comes in.
As in previous years, I've had the honour of judging some of the submitted games. There is a clear criteria list and scoring mechanism, and submissions also need to include a Game Design Document (GDD) that explains how they made the design decisions they did in their game. This document aligns closely with the kind of work that happens in big studios in the game development industry. Judging these entries was an absolute pleasure – making games is really hard and requires a lot of learning, and this learning is clear both in the GDD and the games they make. Some of the games are very impressive and show an incredible engagement with the world – but to be honest, all of them are complete and working, which is an enormous achievement. I can't say I've ever made a game that works!
The winners are presented with prizes at an awards ceremony at PAX: this year we were fortunate enough to have Stephanie Bendixson (who you may know as Hex from Good Game) present the prizes to the winning participants. This attracted a fair bit of attention, made for some great photo opportunities and also flagged some status for the Challenge. But all this was completely eclipsed by the response of the participants to meeting Steph (who is a top celebrity in Australian gaming) – some of the kids were absolutely beaming with the whole thing and I must admit I was a bit starstruck too.
Finally, a few hours after the awards ceremony I chaired the Panel on the Challenge. As well as playable games, console freeplay and competition areas, a huge part of PAX is panels about all aspects of game culture, featuring guest speakers who are authorities in their fields. We were lucky enough to have a great mix of international experts from the industry to give their thoughts and reflection on game development and learning, and the crowd got to well over 100 which was great. I felt like I was in my element facilitating conversation about games, learning, education and the industry and we covered great topics such as how to improve entries in the challenge, the significance of STEM and related skills for employment, and diversity in game development.
Overall, my involvement with the StemGames challenge was without doubt the highlight of my PAX experience, and maybe of my whole year. Apart from mixing with some great folks, there is nothing like being involved in a project that contributes to essential learning for kids: this is an experience that they will never forget, and it can put them onto a path of great success in their learning and career. It looks promising for 2018, so I look forward to reporting more then!
If you are looking for more information on the Challenge or want to discuss how your school or organisation can be involved, please visit: https://www.stemgames.org.au
– Chad
---
No Replies to "PAX Aus 2017: Stemgames"
---